Update: -
BrainReference is a participant in the Amazon Services LLC Associates Program, an affiliate advertising program designed to provide a means for sites to earn advertising fees by advertising and linking to Amazon.com.
We aim to provide consumers with helpful, in-depth information about brain health products. Whether we make money or not on a certain page does not influence the core mission of our writers and medical reviewers, which is to publish content that is accurate and informative.
All product names, logos, and brands are the property of their respective owners.
For more information, see our full Advertising Disclosure
Mind Lab Pro Review – 12 Things You Should Know Before You Buy
Mind Lab Pro is advertised as "the best natural nootropic on the market" for executive function support, improved cognitive function, heightened motivation, memory, creativity, and better retention.
"Nootropic" is a term introduced by Dr. Corneliu E. Giurgea, a Romanian chemist. "Noo" comes from the Greek word for 'mind,' and "trope" is French for 'change.'
Generally, nootropic proponents believe these OTC supplements can help them become more thoughtful and focused on tasks. But nootropics may offer other benefits, too.
Summary
1) What is Mind Lab Pro?
Opti-Nutra, the company that makes Mind Lab Pro, claims their unique formulation is intended for individuals looking to improve attention, enhance memory, and support cognitive functions, while also shielding the brain from damage and stress caused by various toxins (like pollution) and aging.
On top of this, Opti-Nutra also states that, unlike common prescription nootropics, Mind Lab Pro has no known adverse effects, and it's all-natural.
2) The Company Behind Mind Lab Pro
Opti-Nutra is a dietary supplements manufacturer located in the U.K.
The company is better known for its Performance Labs product line[1], which includes several best-selling supplements such as Vision, Prebiotic, MCT, Omega-3, Flex, Energy, Sleep, and Mind.
According to the official website, Opti-Nutra is dedicated to offering only high-quality supplements developed with patented and standardized nutrient forms of more effective ingredients.
Furthermore, this company relies on cutting-edge production technologies in their FDA and cGMP-approved facilities in the U.K. and the U.S.A.
Opti-Nutra contact information:
Website: optinutra.com
Address: 7 Claredon Place, Royal Leamington Spa, CV 32 5QL, United Kingdom
Email: info@optinutra.com
Formula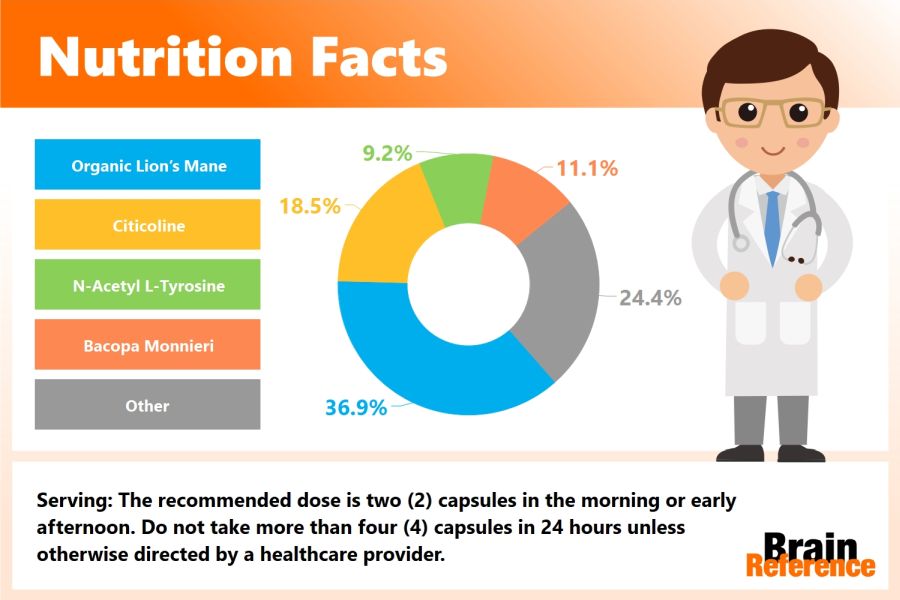 3) What Are Mind Lab Pro Ingredients?
Mind Lab Pro includes the following active ingredients:
Vitamin B9 100 mcg
Vitamin B6 2.5 mg
Citicoline (as Cognizin) 250 mg
L-Theanine (as Suntheanine) 100 mg
Vitamin B12 7.5 mcg
Organic Lion's Mane mushroom (fruit) 500 mg
Bacopa Monnieri (aerial parts) 150 mg
Maritime Pine Bark extract 75 mg
N-Acetyl L-Tyrosine 175 mg
Phosphatidylserine 100 mg
Rhodiola Rosea root extract 50 mg
Other ingredients include NuFlow rice concentrate and Plantcaps Pullan capsule.
4) Does Mind Lab Pro Work?
Mind Lab Pro claims its formula is unique. However, that's not the case. In fact, buyers can find similar formulations in probably hundreds of other nootropics, all building around several potent ingredients such as L-Theanine, Rhodiola Rosea, L-Tyrosine, Phosphatidylserine, Citicoline, or Bacopa Monnieri.
L-Theanine is an amino acid found primarily in green and black tea and Bay Bolete mushrooms. L-Theanine is believed to help ease anxiety, stress, and reduce insomnia. It also is one of the amino acids that can cross the brain-blood barrier, and research indicates[2] that it is safe to use.
Generally, L-Theanine is added in dietary supplements[3][4][5][6] to:
Increase cognitive performance;
Reduce stress;
Support better mental focus;
Improve sleep;
Reduce blood pressure;
Boost the immune system;
Promote weight loss.
Scientists believe[7] that L-Theanine can produce these effects by increasing serotonin, dopamine, and GABA levels in the brain.
** Lion's Mane** (Hericium erinaceus) is a type of medicinal mushroom used for centuries in traditional Chinese medicine and widely available in supplement form.
Lion's Mane mushrooms might boost cognitive function, but the existing research is mainly on animals.
In one study, Lion's Mane dietary supplements appeared to give mice better recognition memory and object recognition.
Other researchers have concluded that the mushrooms may have the potential to prevent or treat conditions that cause a decline in cognitive health, such as Alzheimer's disease and Parkinson's disease [8][9][10].
Citicoline (cytidine-5-phosphocholine, CDP-choline) is a naturally occurring compound found in every cell of the body, but it's essential for the brain.
Citicoline is crucial for the production of phospholipids such as phosphatidylcholine. These molecules build cell membranes and protective nerve coatings in the body[11].
Citicoline delivers two compounds: choline and cytidine once ingested (in supplement form or from foods). After they pass the blood-brain barrier, neurons in the brain use them to make citicoline and other phospholipids.
Choline boosts acetylcholine and other neurotransmitters that keep the nervous system running smoothly. Furthermore, the body converts Citicoline into many other beneficial compounds.
For this reason, Citicoline may have more benefits and a better side-effects profile than regular choline[12].
Claims
5) Mind Lab Pro Claims
Mind Lab Pro claimed benefits include:
Supports short-term and long-term brain health;
Protects brain cells from premature aging;
It improves concentration, focus, and memory;
Promotes relaxation and reduces stress;
Alleviates fatigue and brain fog;
Improves verbal fluidity, creativity, and communication.
Adverse Effects
6) Potential Mind Lab Pro Effects
While the manufacturer claims that Mind Lab Pro is 100% safe with no reported side effects, giving the user testimonials and reviews online, as well as the ingredients included in this nootropic supplement, some individuals may experience some adverse effects[13][14][15][16][17], including:
Stomach cramps
Increased bowel movements
Constipation
Nausea
Drowsiness
Dry mouth
Low blood pressure
Headaches
Blurred vision
Dizziness
Chest pains
Mind Lab Pro nootropic supplement contains Bacopa Monnieri, Lion's Mane, and Rhodiola Rosea. The available research suggests that herbal extracts are more likely to cause adverse effects and negative interactions with specific prescriptions when continuously taken for more than 30 days.
Therefore, we recommend cycling the supplement regularly, taking one week off every three weeks as a minimum. Longer breaks are advised after repeated cycles.
Warnings
7) Mind Lab Pro Product Warnings
Some prescriptions that may interact[18][19] with Mind Lab Pro include:
Medications that are changed by the liver, such as Triazolam (Halcion), Lovastatin (Mevacor), Itraconazole (Sporanox), Ketoconazole (Nizoral), and Fexofenadine (Allegra);
Medications used for diabetes, such as Pioglitazone (Actos), Glimepiride (Amaryl), Insulin, Glyburide (Diabeta, Glynase PresTab, Micronase), and Rosiglitazone (Avandia);
Medications for high blood pressure, such as Amlodipine (Norvasc), Valsartan (Diovan), Captopril (Capoten), Losartan (Cozaar), Enalapril (Vasotec), and Diltiazem (Cardizem);
Medications that decrease the immune system, such as Basiliximab (Simulect), Azathioprine (Imuran), Daclizumab (Zenapax), and Cyclosporine (Neoral, Sandimmune).
Where to Buy?
8) Where to Buy Mind Lab Pro?
Despite being a popular nootropic, Mind Lab Pro can only be purchased from several online stores. The company sells mainly through its official store and Amazon.
You may also find the supplement on sale on several other retailers (like eBay or Walmart), but resellers generally own those listings.
Price
9) Mind Lab Pro Price
Mind Lab Pro is one of the more expensive nootropic supplements available:
One 60 capsules bottle costs $69.00;
Two 60 capsule bottles (120 capsules in total) cost $138.00;
Three 60 capsule bottles + one bottle free (240 capsules in total) cost $207.00.
How To Take
10) How to Take Mind Lab Pro
The recommended dose of Mind Lab Pro is two (2) capsules in the morning or early afternoon. Do not take more than four (4) capsules in 24 hours unless otherwise directed by a healthcare provider.
As always, we strongly recommend reading and understanding the label before taking any dietary supplements or medications.
11) What Users Are Saying
Verdict
12) Our Verdict on Mind Lab Pro
Mind Lab Pro contains a blend of 11-brain boosting ingredients specifically selected for their nootropic benefits. These 11 ingredients are claimed to work in synergy to create a comprehensive, universal smart drug that aspires to improve every aspect of cognition and brain health.
On the other hand, Mind Lab Pro is one of the more expensive products we've ever reviewed. For 20-30 servings, depending on how you dose things, you're looking at about $65.00 + shipping per bottle.
Overall, Mind Lab Pro is a relatively good place to start for someone new to the world of nootropics and smart drugs.
While the popularity comes mainly from an excellent affiliate marketing business strategy, the supplement is well-formulated and filled with high-quality ingredients that may significantly impact cognitive performance.
For those looking to improve overall vitality and cognitive health, we recommend supplements that support better focus, improved attention, and calmness.
Alternatives
Mind Lab Pro Customers Related Products:

10+ Yrs Proven
Supplement

Verified
Reviews

Risk-Free
Trial

HCF Happy, Calm & Focused


(4.80)

Taurine


(4.25)

L-Theanine (Suntheanine)


(4.00)

Arginine


(3.90)

L-Glutamine


(3.90)

L-Lysine


(3.65)
The main issue with synthetic ingredients is that you don't always get what you pay for. In reality, synthetic ingredients are well known for their low absorption, poor bioavailability, and the fact that they drain the body's reserves of other minerals and vitamins (e.g., cofactors) required for proper absorption of other nutrients.
read more
At BrainReference we recognize that dietary supplements can be the source of many allergic responses either due to cross-contamination with high-allergen compounds during the manufacturing process or because they incorporate ingredients obtained from high-risk allergenic foods (milk, eggs, or fish).
read more
Companies with less integrity will use dangerous fillers as a "grease or lube" to aid in easier and faster production. Artificial dyes and colors are used to make supplements more appealing to the eye. Coatings are added to make capsules easier to swallow. How do these fillers impact your body and health?
read more
Independent testing labs are not associated with the producing company, ingredients supplier, the company whose name appears on the product, or with the consumer. This means independent testing labs have no vested interest in the result of the testing and are less likely to "dry lab" or manipulate test results for self-serving reasons.
read more
Q&A
Customers Questions and Answers with Mind Lab Pro
Q:
What's inside Mind Lab Pro formula?
A:
Mind Lab Pro includes these active ingredients: Vitamin B9, Vitamin B6, Citicoline (as Cognizin), L-Theanine (as Suntheanine), Vitamin B12, Organic Lion's Mane mushroom (fruit), Bacopa Monnieri (aerial parts), Maritime Pine Bark extract, N-Acetyl L-Tyrosine, Phosphatidylserine, and Rhodiola Rosea root extract.
A:
Mind Lab Pro is advertised as an all-natural nootropic supplement for executive function support, improved cognitive function, heightened motivation, memory, creativity, and better retention.
Q:
What are the Mind Lab Pro side effects?
A:
Mind Lab Pro side effects may include stomach cramps, increased bowel movements, dry mouth, nausea, constipation, drowsiness, dizziness, low blood pressure, headaches, blurred vision, and chest pains.
Q:
Where can I buy Mind Lab Pro?
A:
Mind Lab Pro can only be purchased from several online stores. The company sells mainly through its official store and Amazon.
Q:
How much does Mind Lab Pro cost?
A:
Mind Lab Pro is an expensive product. One 60 capsules bottle costs $69.00, two 60 capsule bottles (120 capsules in total) cost $138.00, while three 60 capsule bottles + one bottle free (240 capsules in total) cost $207.00.
Q:
How can Mind Lab Pro help my brain?
A:
According to Opti-Nutra, Mind Lab Pro is designed to enhance memory, attention span, and cognitive functions while also protecting the brain from stress and damage caused by aging and toxins.
Q:
Can I take Mind Lab Pro with a prescription?
A:
Mind Lab Pro contains ingredients that may interact or alter the way specific prescriptions work. We strongly recommend consulting a medical doctor before taking the nootropic if you are under treatment or have known medical conditions.
Q:
Can I take Mind Lab Pro with other supplements?
A:
You can take Mind Lab Pro with other dietary supplements or daily multivitamins.
Q:
Does Mind Lab Pro have a recommended daily dosage for children?
A:
Mind Lab Pro is not intended for children or teenagers under 18.
Q:
Are there any dangerous ingredients in Mind Lab Pro?
A:
This formula doesn't contain any banned, toxic, or potentially dangerous ingredients.
Q:
Can I take Mind Lab Pro if I'm pregnant or nursing?
A:
Pregnant or nursing mothers should consult a physician before using this or any dietary supplement.
Q:
What are the most common complaints about Mind Lab Pro?
A:
Most buyers are happy with the Mind Lab Pro brain supplement. Still, some users complained about experiencing adverse effects after taking the supplement. Others felt the product didn't help with focus and concentration.
Q:
Who makes Mind Lab Pro?
A:
Mind Lab Pro is made by Opti-Nutra.